Business Consulting
---
GET GUIDANCE THAT GETS RESULTS
A PARTNER THAT'S MORE THAN A PLATFORM
Kestra Financial Business Consultants recognize you're more than a financial professional; you're an entrepreneur. Throughout the lifecycle of your business, our experts help you face challenges and find opportunities so that you can maximize its value. We work closely with you as you work on your business, not just in it.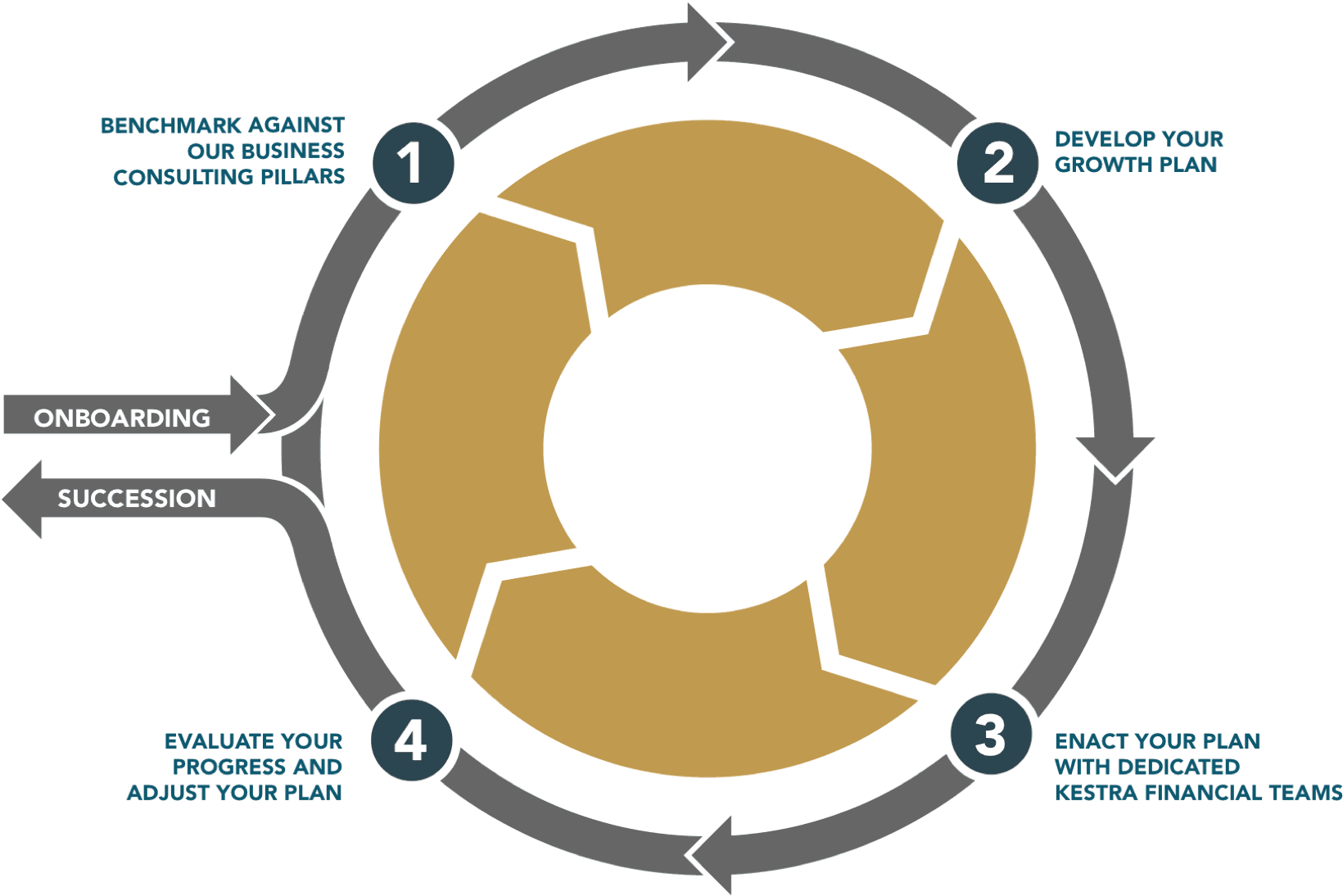 Our Business Consulting team focuses on six critical areas to grow your business:
Strategy
We help you develop a strategic vision to plan for the future. A clear purpose, including specific goals, defines the direction of your business, from growth through succession.
Financial Management
We help you understand—and leverage—the financial metrics that inform your most critical business decisions, and thus, progress toward your profitability and valuation goals.
Marketing
Our team helps you uncover your unique place in the market and define your ideal client. We then develop comprehensive digital and social strategies to reach them.
People & Performance
We harness talent management tools and practices to help you efficiently maximize the productivity of your staff, including recruiting and defining roles and responsibilities.
Operational Efficiency
Our experts help you maximize your team's time and the value of your business through integrated technology solutions that enhance capacity and scale, and increase revenue.
Wealth Management
Investment specialists empower you to effectively research new product solutions, develop holistic portfolio recommendations, and drive a more efficient investment process.
Working on your business is as important as working
in it.
Our consultants can help.
A MORE PERSONALIZED APPROACH
Our Business Consulting team also partners one-on-one to help you get the most of each business-critical area using our comprehensive technology, service, and training.
Discover
Explore your business, goals, core competencies, opportunities, and support
Plan
Identify opportunities and required resources, and create a plan to achieve success
Implement
Put your plans into action
Review
Assess results on an ongoing basis and update your plan accordingly